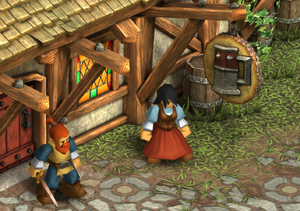 "In combat, a bard commands both song and sword. We are master duelists, able to disarm our foes or woo them to our side with a whisper."
Being a bard requires charisma, dexterity, and a bit of intelligence.  The Bard shares some skill overlap with the Necromancer.
How to Unlock
Edit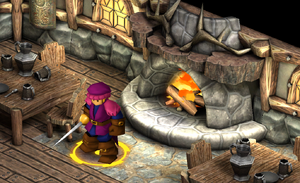 In Downtown Eston, go to the Tavern (which is past the Academy and Armory on the next screen), it has a sign with a beer stein. Next to the fireplace is the Bard, wearing purple. You must listen to his song and answer his question before he will pass on his skills.
After listening to his song, he will ask you some questions. You will always be able to unlock the Bard class regardless of the answers you choose, but he will not accept you as a student if you repeatedly insist on using his skills to go on a killing rampage.
Note that, like the Necromancer, the Bard is not a wise choice for endgame, as most of the skills have no effect on bosses. However, the Bard is a great choice for a side skill if you are learning a class that shares some requirements, as Generalism makes it a lot easier to unlock every skill in the game.
Bard Skills
Edit
Skill
Description
Cooldown
Requirement

Charm

Charms an enemy, forcing them to fight for you for 10 seconds.
30 sec

8 CHA

50 Gold

Lucky

Increases all gold acquired by 25%.
Passive

6 DEX

9 CHA

75 Gold

Thrust

Deals 3.5x weapon damage, and against stunned or helpless enemies always deals a critical strike. Requires a piercing melee weapon.
10 sec

8 DEX

10 CHA

100 Gold

Song of War

Increases all damage done, and reduces all damage taken by 15% for 20 seconds.
45 sec

9 DEX

12 CHA

125 Gold

Quick Study

Increases all XP acquired by 10%.
Passive

10 DEX

15 CHA

150 Gold

Song of Vigor

A soothing tune which slowly heals your wounds over 20 seconds.
45 sec

11 DEX

18 CHA

175 Gold

Disarm

Renders your enemy unarmed for 15 seconds, forcing them to fight with their fists. Requires a melee weapon.
25 sec

13 DEX

20 CHA

200 Gold

Favored Soul

Increases the duration of positive status effects by 25%.
Passive 

15 DEX

22 CHA

225 Gold

Sly Wink

Increases the damage dealt by charmed foes by 50% while under your influence.
Passive

16 DEX

7 INT

24 CHA

250 Gold

Riposte

Enter a stance which deflects and counters the next melee attack against you. Requires a melee weapon.
15 sec

19 DEX

7 INT

26 CHA

275 Gold

Lullaby

Instantly puts all nearby enemies to sleep for 10 seconds. Any damage will wake them, however.
30 sec

20 DEX

8 INT

30 CHA

300 Gold

Generalist

Reduces the stat requirements for equiping items or learning skills by 30%.
Passive 

21 DEX

10 INT

33 CHA

325 Gold

Song of Inspiration

Instantly resets the cooldown of all of your other skills.
45 sec

22 DEX

12 INT

37 CHA

350 Gold
References
Edit
Community content is available under
CC-BY-SA
unless otherwise noted.