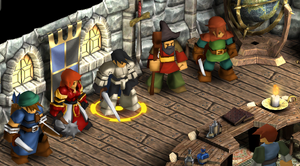 Knight Trainer: "Well met, traveler. I can teach you the ways of the Knight."
Player: "Tell me more about the Knight class."
Knight Trainer: "Knights are strong warriors who wear heavy armor and shields.It demands great Strength and Endurance. If wading into combat and shrugging of your foes' attacks is your desire, follow the path of the Knight."
- The Knight explains about the class to the player.
How to Unlock
[
]
The Knight class is unlocked by default. In Downtown Eston, go to the Academy; it is the very first building on your left and has a sign with a book on it. The Knight trainer is wearing white/metallic armor.
Knight Skills
[
]
Skill
Description
Cooldown
Requirement

Power Attack

Deliver a powerful melee strike with your primary weapon. Deals 3x normal damage. Requires a melee weapon.
6 sec

N/A

Cleave

Deals 2.5x normal weapon damage to all enemies in front of you. Requires a melee weapon.
10 sec

6 STR

50 Gold

Shield Training

Allows the use of shields.
Passive

6 STR

6 END

75 Gold

Defend

Ready your shield, absorbing all physical damage for 4 seconds. Requires a shield equipped.
15 sec

8 STR

7 END

100 Gold

Armsman

Increases damage with all bladed weapons by 10%.
Passive

9 STR

9 END

125 Gold

Intimidate

A terrifying shout which paralyzes your target in fear, and forces other nearby enemies to panic for 5 seconds.
24 sec

11 STR

11 END

150 Gold

Shield Wall

Reduces all damage you take by 50% for 10 seconds. Requires a shield.
30 sec

12 STR

14 END

175 Gold

Grit

Increases weapon damage by 50% of your endurance, and reduces the duration of negative status effects by 50%.
Passive

14 STR

17 END

200 Gold

Shield Rush

Charges your target, knocking them down and dealing damage.  Requires a shield, and a minimum distance from the target.
8 Sec

16 STR

21 END

225 Gold

Sundering Strikes

Your attacks erode your enemies armor, causing 2% additional damage taken, stacking up to 5x.
Passive

18 STR

25 END

250 Gold

Victory Banner

Plants a battle standard on the field for 15 seconds. While within its area of effect, your crit chance is increased by 50%, and your damage by 20%.
45 sec

21 STR

29 END

275 Gold

Chivalry

Increases your armor by 25%
Passive

24 STR

34 END

300 Gold

Revenge

For 6 seconds, all enemies who dare strike you instantly take damage. The damage is increased by your own strength, as well as the force of the incoming blow.
30 sec

28 STR

38 END

325 Gold