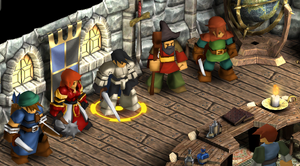 Paladins are stalwart holy warriors who are proficient with blunt weapons.
Through Charisma, Strength and Endurance, they wreak havoc to the wicked.
How to Unlock
[
]
The Paladin class is unlocked by default. In Downtown Eston, go to the Academy; it is the very first building on your left and has a sign with a book on it. The Paladin Trainer is second from the left sporting a classy Crimson Regalia.
Paladin Skills
[
]
Skill
Description
Cooldown
Requirement

Divine Hammer

Perform a weapon strike which manifests a divine hammer, striking your foes with holy damage. Requires a melee weapon.
10 sec

6 CHA

50 Gold

Punishment

Increases critical strike chance with unarmed attacks and blunt weapons by 10%
Passive

6 STR

7 CHA

75 Gold

Aura of Light

For 10 seconds, all of your attacks will heal you for 25% of the damage dealt.
20 sec

6 STR

6 END

9 CHA

100 Gold

Power Infusion

A surge of holy energy increases all damage you deal by 50% for 10 seconds.
30 sec

8 STR

6 END

11 CHA

125 Gold

Stalwart

Increases your maximum health by 15%.
Passive

9 STR

7 END

13 CHA

150 Gold

Wrath

Infuse your weapon with divine wrath for 10 seconds, causing your auto-attacks to deal additional damage, and chain holy lightning to nearby targets.
20 sec

11 STR

8 END

15 CHA

175 Gold

Cleanse

Removes all negative status effects from your body, such as poison.
8 sec

12 STR

10 END

17 CHA

200 Gold

Might

Increases your melee power by 20% of your armor value.
Passive

13 STR

12 END

19 CHA

225 Gold

Holy Word

Utter a word of prayer to heal your wounds.
30 sec

14 STR

14 END

21 CHA

250 Gold

Devout

Increases the damage of holy attacks by 10%
Passive

16 STR

15 END

23 CHA

275 Gold

Mirror Shield

Surrounds you with a shield which reflects projectiles for 8 seconds.
25 sec

18 STR

16 END

25 CHA

300 Gold

Word of Retribution

Whenever you heal yourself, your damage is increased by 20% for 10 seconds
Passive

20 STR

17 END

28 CHA

325 Gold

Radiance

A flash of holy light consumes the battlefield damaging and knocking foes to the ground.
20 sec

22 STR

19 END

31 CHA

350 Gold