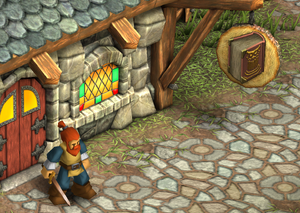 Rogue Description
It demands great Dexterity and Skill.
How to Unlock
Edit
The Rogue class is unlocked by default. In Downtown Eston, go to the Academy; it is the very first building on your left and has a sign with a book on it. The Rogue trainer is the one at the far right of the lineup in green leather with a dagger.
Rogue Skills
Edit
Skill
Description
Cooldown
Requirements

Sneak Attack

Blindside your target for 6.5x normal damage, and gain 20% additional dodge chance for 3 sec. Requires a dagger.
9 seconds

6 DEX

50 Gold

Poisoned Knife

Throw a poisoned dagger at your target, which deals continuous damage over 10 seconds.
6 seconds

7 DEX

6 SKL

75 Gold

Twist the Blade

If your target is effected by a damage-over-time effect, you deal 10% increased damage to them.
Passive

9 DEX

7 SKL

100 Gold

Stealth

Vanish into the shadows. Any attacks will cancel stealth, deal 50% more damage and always critically hit. Cannot stealth while enemies are targeting you.
1 second

11 DEX

8 SKL

125 Gold

Lethal Edge

Increases critical strike chance with daggers and swords by 10%.
Passive

6 STR

13 DEX

9 SKL

150 Gold

Thievery

Can be used to pickpocket your enemies for extra loot, or open locks on treasure chests.
1 second

6 STR

16 DEX

11 SKL

175 Gold

Paralytic Knife

Throw a poisoned dagger at your target, which renders them paralyzed for 6 seconds.
20 seconds

6 STR

19 DEX

12 SKL

200 Gold

Coup De Grace

Increase your damage against stunned/knocked down enemies by 20%.
Passive

7 STR

22 DEX

13 SKL

225 Gold

Envenom

Apply poison to your weapons, causing your next 5 weapon strikes to deal 30% more damage as pure poison.
30 seconds

7 STR

25 DEX

15 SKL

250 Gold

Pursuit

Increases your movement speed by 20%.
Passive

7 STR

29 DEX

16 SKL

275 Gold

Expose Weakness

A precision strike that permanently disrupts a target's damage resistances, leaving them highly vulnerable. Stacks up to 3 times.
25 seconds

9 STR

32 DEX

17 SKL

300 Gold

Crippling Blows

Your attacks steadily weaken your foe, reducing their damage dealt by 2%, stacking up to 5x.
Passive

10 STR

35 DEX

19 SKL

325 Gold

Shadowstep

Vanish into the shadows, teleport behind your target, and perform a lethal strike for 7.5x normal weapon damage. Requires a dagger.
20 seconds

11 STR

39 DEX

21 SKL

350 Gold
Community content is available under
CC-BY-SA
unless otherwise noted.