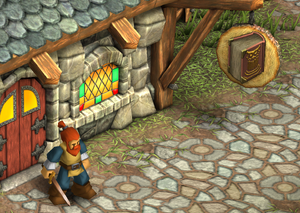 Wizards wield magical staves to destroy foes with elemental magic. It demands great Intelligence and Skill.
As a Wizard, your hero will be very squishy but capable of high damage; the proverbial Glass Cannon. With this in mind, and a good staff in hand, you'll need to keep on the move to avoid your enemies at all cost while dishing out the hurt. Great spells like Teleport and Blizzard will be invaluable. Similarly, effects and equipment that improve your critical effect chance or damage will help to capitalize on your innately high crit chance thanks to Wild Magic and a pumped Skill stat.
How to Unlock
Edit
The Wizard class is unlocked by default. In Downtown Eston, go to the Academy; it is the very first building on your left and has a sign with a book on it. The fellow wearing red robes and holding a staff will be happy to teach you the ways of the Wizard.
Wizard Skills
Edit
Skill
Description
Cooldown
Requirements

Chain Lightning

Strikes your target with a bolt of lightning, which then proceeds to jump to nearby targets if possible, dealing less damage with each jump.
8 sec

7 INT

50 Gold

Staff Master

Allows you to wield magic staves.
Passive

8 INT

6 SKL

75 Gold

Meteor

Calls down a meteor from the heavens, blasting your target and any nearby foes with heavy fire damage.
15 sec

10 INT

7 SKL

100 Gold

Wild Magic

Increases critical strike chance with all spells by 10%
Passive

12 INT

8 SKL

125 Gold

Blizzard

Deploys a vortex of frost towards your target. Any enemies caught in the storm take damage and move at reduced speed.
16 sec

15 INT

9 SKL

125 Gold

Teleport

Once activated, your next 5 movement commands cause you to instantly teleport to your destination.
18 sec

18 INT

10 SKL

175 Gold

Elementalist

Increases your fire, frost and lightning damage by 10%.
Passive

22 INT

11 SKL

200 Gold

Conflagrate

Consumes your target in fire, dealing damage over time and sending them into a panic for 8 seconds.
20 sec

25 INT

13 SKL

225 Gold

Mass Destruction

Increases the damage of all area-of-effect attacks and spells by 10%.
Passive

29 INT

14 SKL

250 Gold

Thunderbolt

Your body explodes with an electric shockwave, dealing damage to nearby enemies and knocking them down briefly.
20 sec

33 INT

16 SKL

275 Gold

Glacial Spike

Launches a spear of ice at your target. Any enemies between you and your target also take damage as the spike forces through them.
25 sec

38 INT

17 SKL

300 Gold

Student of the Mind

Increases your cooldown recovery speed by 15%.
Passive

42 INT

19 SKL

325 Gold

Time Stop

A space-time rift renders all enemies frozen and helpless for 5 seconds.
40 sec

48 INT

20 SKL

350 Gold
Community content is available under
CC-BY-SA
unless otherwise noted.